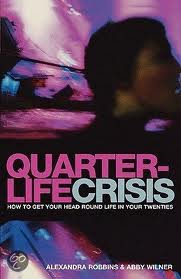 Are you torn between climbing the career ladder or throwing on a sarong in Goa? Do all your mates seem more successful and sorted than you do? Are you suffocated by choice, responsibility, and self-doubt? Are money, homelife and relationships stressing you out? Do these questions just make you want to crawl back under your duvet? Surprisingly you are not alone you could be in the middle of a quarterlife crisis.
Labels:quarterlife crisis
Trackback van jouw site.